About 50,000 people will run the New York City marathon on November 3. Our eyes will be on one guy in particular, Yasir Salem. In 2018, after that same marathon, he set out to race 50 marathons in 50 states. Not just because he's an extreme athlete who can. But because he's doing this "50-in-50" effort to raise awareness for the Gweneviere Mann Foundation, which is dedicated to helping more people who need it get screened for lung and brain cancers earlier. And because Gweneviere Mann was his running partner. And wife.
The couple ran their first marathon together—New York's—in 2010, a year after Gweneviere recovered from surgery to remove a meningioma tumor in her brain. In the eight years after that, Yasir and Gwen ran eight marathons together. In the summer of 2018, Gweneviere was diagnosed with a rare form of lung cancer that she couldn't beat.
To honor his wife and raise awareness of the disease that took her, Yasir runs. And runs. So far, he's traveled around the country to complete 46 marathons in 46 states, and you can join him to celebrate the NYC marathon as the 50th.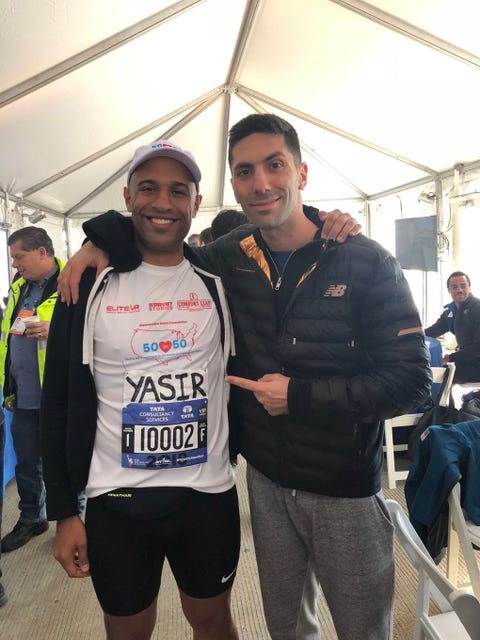 Yasir in New York with producer, actor, and TV host Nev Schulman.

.
The day before the TCS New York City Marathon—Nov 2—you can celebrate and support the Foundation and running at a brunch at Papillon Bistro (tickets available here) that features inspirational speakers including ultra runner Dean Karnazes, Story Corps founder Dave Isay, Women's Health Editor in Chief Liz Plosser, and lung cancer doctor Bradley Pua, M.D.
More about the man behind "50 in 50"
It's hardly his first endurance event. Salem, a marketing director for Men's Health and the Hearst Men's Group, is also an accomplished competitive eater—he participated in the Nathan's Famous Fourth of July hot dog eating contest six times before retiring in 2018. And he's a speed-eating ultra-athlete, having won the Tour de Donut bicycle race several years in a row. (That's a 36-mile road race with a doughnut-eating contest throughout.)
The man is ambitious. And there to support him through his zaniest competitions was Gweneviere. "I love big projects—things that kind of challenge me—and I had to do something with my grief. So I thought, 'why don't I put those two things together?'"
Since he started 50-in-50 last year, he's discovered a few things, including how "the travel is a lot more draining than the actual run itself," he says. But he's become a pro at scheduling ("and sleeping on redeye flights").
The most challenging marathon wasn't the Dust Bowl Series in New Mexico, where he clocked a 3:57 PR. It was at Foy's to Blacktail Trail marathon in Montana, which includes 2,800 feet of climbing in the first 5K alone, and 1,400 more after that. "It was absolutely stunning, and I was really looking forward to the idea that they require you to carry bear spray—I kind of loved the feeling of danger…and I carried it in my hand the whole time." But, he says, "I underestimated the difficulty of that course. Nobody's doing record times on that. So around mile 13, I called Delta and said, 'I'm not going to make my flight this afternoon.'" (But what he won't mention is that he did win his division, and made it home on a later flight.)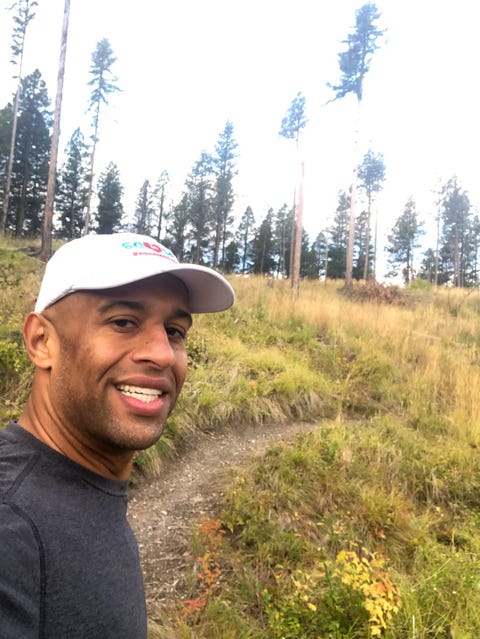 The innocent-looking trail belies the 5,000 feet of climbing you need to do in the Foy's to Blacktail Trail Marathon in Montana.

.
How You Can Help
So far, he's raised $73,000 for the foundation, and wants to raise its profile higher. If you can't make it to the brunch event, you can donate to the Gweneviere Mann Foundation by going to gwenmann.org. There you can donate directly or sign up to join a marathon with Yasir as part of the "50-in-50" team. And follow Yasir on Instagram at @gwenfoundation; #50in50.
Source: Read Full Article