Save articles for later
Add articles to your saved list and come back to them any time.
Ten years ago, Simon Hughes hit "rock bottom". Addicted to ice and staring down a jail sentence for drug trafficking, if it weren't for his father David's desperate plea in the witness box to give his son one last chance at rehab, he doubts he'd be functioning – or alive – today.
Simon got clean on his father's 70th birthday in 2013. Now with a psychology degree and a job as a rehab counsellor, Hughes has spent 10 years of sobriety studying the intricacies of addiction. As they prepare to blow the candles out for David's 80th and Simon's decade clean, he shares his learnings from both sides of addiction.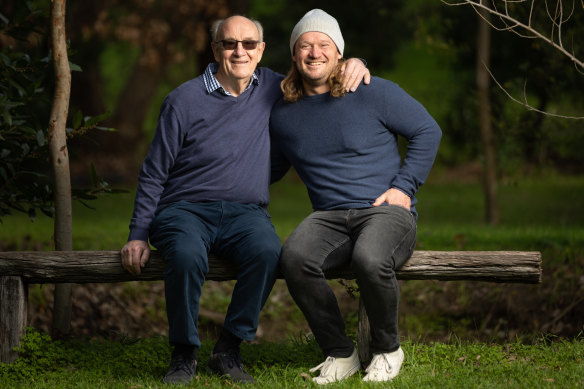 Simon Hughes and his dad David.Credit: Jason South
Relapse risk is always real
"When I was sitting in a Melbourne courtroom in 2013 about to be sent to jail, I prayed to the universe or whatever's up 'there', 'Hey, can you give me one more shot at recovery? I'll give it everything I've got.' It was granted, and I genuinely have given it everything I've got.
"Getting to 10 years clean brings a sense of relief, but I'm conscious that time is not an antidote to recovery. The moment that I think I'm okay, I have to check in on that, because a relapse could be just one bad mood or one argument away.
"I still go to 12-step fellowship meetings – sometimes I went to three-a-day online during COVID lockdowns – and I've been pretty public about my recovery with friends and through my stand-up comedy, and that helps me see it as something bigger than me – relapse doesn't present itself as a solution.
"We're getting together for dinner in [Melbourne] for Dad's 80th birthday and 10 years clean for me. When Dad turned 71 and I was clean for one year, there wasn't a dry eye in the house, so I think this is going to be special too – especially after we almost lost Dad to a heart attack recently and are lucky to have him."
Addicts need tough love
"I started experimenting with marijuana in my late teens and self-medicating with it in my mid-20s to try to cope with a high-pressure sales job. I progressed to speed, ecstasy and hallucinogens, before moving onto ice. I had some frightening psychotic episodes along the way.
"For a long time, my parents, who had no experience with people taking drugs, did everything they could to help me – paying fines, letting me stay with them and lending me money.
"They did some courses for families of people with addiction and learnt they'd been enabling me. They kicked me out of home and stopped paying my fines. I was living in a decrepit garage, it was disgusting. That's where addiction led me, and I think finding rock bottom propelled me hard enough onto this path [of recovery].
"I hear of families pushing their kids or partners into rehab, but in my experience the person has to have had enough. I sometimes tell [families] that they have to force a 'rock bottom', saying, 'If you want to keep using and drinking, you go do that, but we can't support you any more. You go run your own race'.
"It's really tough to do because no one wants to see a loved one in pain but the truth is, by enabling the addict they are only hurting themselves more, and the chances of recovery are a lot slimmer than if the person has had enough and wants to do the work themselves."
Purpose keeps you clean
"When I'm talking to people at rehab now, I'm planting the seeds of, 'Let's find some passions, some hobbies, some purpose' because that's the stuff that's really going to help them long term. Some people want to learn an instrument, some people want to travel, some people want to get a jet ski – it's about finding whatever's going to get you out of bed.
"For me, I love electronic music, so I volunteer at PBS community radio so I get to play music without being in nightclubs. I run a comedy club, I have a mushroom farm, I'm part of a community garden and I'm studying my masters in counselling. I've got purpose and I've found what really fills my cup. I practise a lot of gratitude every morning and night – I've got a loving partner, a loving family, I have comedians I once idolised performing in my comedy rooms and I give back to society. Remembering this always combats any resentments you have – you can't relapse on an attitude of gratitude."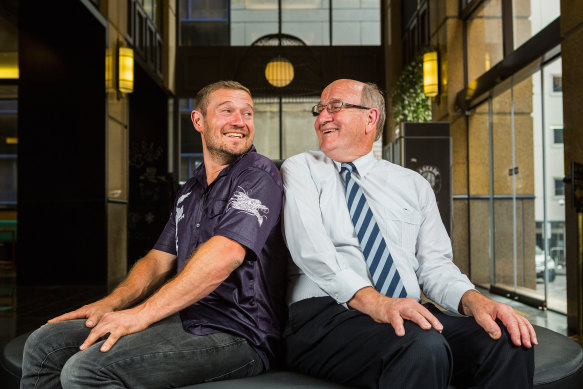 Simon Hughes and his father David Hughes posing for a photo in 2015.Credit: Chris Hopkins
Everyone needs a safe space
"Addiction knows no boundaries, it doesn't care who you are, what area you live or what school or uni you went to. It affects everyone from school teachers to lawyers to nurses to pilots to that person you see on a park bench. I think we've got to be real with kids about drugs – just telling them they're 'bad' is not going to stop people from doing them, and reduces the chance that they will reach out for help if they need it. When I do talks at schools, I say, 'Yes, the drugs will do what your friends say they will. But the problem is, the longer that you do them, the more chance you've got of running into unwanted pregnancies, overdoses, arrests and crimes'.
"Kids have told us, 'My friend passed out from drinking but we didn't want to call the ambulance because we thought the cops would come and get him in trouble'. We're like, 'No, no no. Please call the ambulance and if it keeps happening to that same friend, get him to reach out because obviously something's not right'. I tell my family and friends who have teenagers and adult children, 'You need to let them know that if there's a problem, they can come and talk to you'."
It's a sad journey
"My 10-year anniversary is also tinged with sadness because I've lost a lot of friends along the way to overdose and suicide. A close friend who I studied counselling with was the poster boy for the rehab centre his family had started, but was prescribed opiate medication and a couple of weeks later was gone.
"It's so sad that this thing can take such a driving seat in our lives, and drive everything else out of it. It scares me, but empowers me to go, 'No, I won't be having a sneaky red wine with dinner'. I've seen [relapse] too many times and I know that no one is immune."
Make the most of your health, relationships, fitness and nutrition with our Live Well newsletter. Get it in your inbox every Monday.
Most Viewed in Lifestyle
From our partners
Source: Read Full Article