Cannabis foods designed for children are popping up on supermarket shelves around Australia and parents are concerned.
A new survey of 1000 Australian parents found almost three-quarters of parents are unsure about whether these products are safe for their children.
This is because of the association with marijuana, the psychoactive variety of the cannabis sativa plant family.
Coming around to cannabis: Sara Keli with her daughters Olivia and Josie.
Nutritionist and mother of four Amelia Phillips admitted to having the same feelings when hemp "was coming on the scene".
In 2002, Food Standards Australia & New Zealand (FSANZ) found that hemp – the non-psychoactive variety – was safe and suitable for human consumption. In November 2017, hemp was made legal to eat in Australia.
"It's still very new so people are understandably dubious when it comes from the same product that got us high in our early 20s," says Phillips, laughing.
I never would have considered feeding them to my kids
Since its gradual legalisation around the world, hemp has become one of the most "globally significant natural resources in the world" and is predicted to become a multi-billion-dollar market by 2020.
This is because it is sustainable, its uses are diverse (as well as is foods, hemp is used to make clothes, car interiors, beauty products, for soil regeneration, non-toxic fuel and paper) and it is cost-effective to grow.
"It's also got a lot of amazing health benefits," Phillips says.
It's high in Omega 3s for example, an essential type of fat that the body can't produce itself.
Mainly found in fish (plant sources include walnuts, linseeds and hemp), the body converts these fats into "powerful antioxidants".
"A range of benefits include cell production and the prevention of mutated cells," Phillips says.
She adds that hemp contains about 75 per cent polyunsaturated "good" fat, is very high in protein and contains about 50 per cent fat.
"It's also low in carbohydrates, but high in fibre," Phillips says. "When people cut carbs they often cut fibre too so that's a holy grail. It's free of dairy, soy and gluten too.
"It's very hard to call one particular food nutritionally complete but it does have a very healthy nutrient profile."
Still only 15.8 per cent of parents surveyed in the poll commissioned by Evia, which has made yoghurt contianing hemp, have actually purchased hemp food products.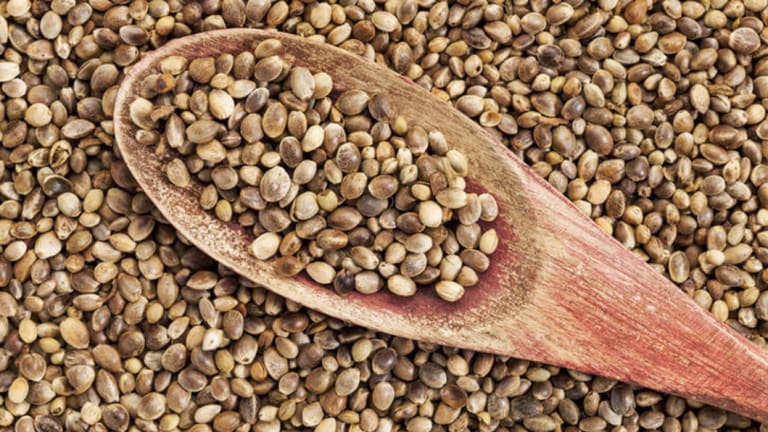 Hemp seeds…. highly nutritious, but some parents are still concerned.Credit:Thinkstock
Sara Keli has two daughters, Olivia, 5, and Josie, 2.
"When I first heard about hemp foods, I never would have considered feeding them to my kids," the Sydney-based mum admits. But learning about the benefits of hemp … certainly changed my perspective."
After hearing about hemp, Keli did a little research online and was surprised to learn it was "so good" for kids.
Now, she says she wouldn't hesitate to include hemp foods in their diet.
Phillips says given the 50 per cent fat content in hemp, "I wouldn't overdo it". She says there is no reason babies who are on solids and children can't have hemp foods, which include cold-pressed hemp oil, hemp seeds, hemp seed oil-infused yoghurt, corn chips, pasta sauces and protein powders.
"Introduce it slowly, in small amounts as with any food," Phillips says, adding it is "very low allergen". "They're not going to get high or sleep better. It's been legal overseas for many years. Your child is not going to get high."
Source: Read Full Article