Some exercises just look awesome.
We've all seen someone show off a move that takes unbelievable balance, concentration, and strength, appearing to bend the laws of physics and defy gravity. These are what we're calling Hero moves, the high-level maneuvers that you've watched slack-jawed on Instagram but never imagined you'd be able to pull off yourself.
Good news: With the right plan, you can learn exactly what it takes to master these Hero moves. Trainer and former gymnast Beau Whitman is confident that he can help you master the pistol squat, which he calls "the hardest squat to learn." After you follow his progressions and put in the work, you'll be able to show off your unilateral balance and lower body strength.
One quick note of warning: If you have any lower body issues—especially with your knees or ankles—you might want to sit this one out. Try working with a physical therapist or coach to work through your injuries, then come back to try this once you're all cleared.
View this post on Instagram
Balance is key to having a successful life. ——————————————————— #balance #pistol #gymnast #gymnastics #crossfit @mjfit @menshealthmag @fitspico @reebok @newyork_instagram #focus #adventure
A post shared by Beau Whitman (@beauvault) on
Pistol Squat Prep Work
Before jumping into the progressions, Whitman starts with a body assessment, working from the bottom up.
Ankle Assessment
If you struggle with the test, try this ankle mobility drill.
Hip Assessment
If you struggle with this test, try hip mobility stretches like these.
After you've assessed your ankles and hips, it's time to get warmed up.
Ankle Warmup
Hip Warmup
Once you're finished with the stretching, you're ready to start on the pistol squat progressions.
Pistol Squat Progressions
Now, you're ready to work your way up to the pistol squat. Make sure to focus on hitting the proper depths as you work through the progressions—if you don't focus on doing the work correctly, you won't be able to pull off the move properly at the end.
First Progression
Air Squat
3 sets of 10 reps
Second Progression
Close Feet Squat
3 sets of 10 reps
Third Progression
Eccentric Single-Leg Squat (on bench)
5 controlled reps per leg
Fourth Progression
Single-Leg Box Squats
10 reps per leg at each height
Fifth Progression
Toe Squat
6 to 8 reps per leg
Sixth Progression
Floater Squat
6 to 8 reps per leg
Once you've mastered each of these progressions, you'll be ready for the real thing.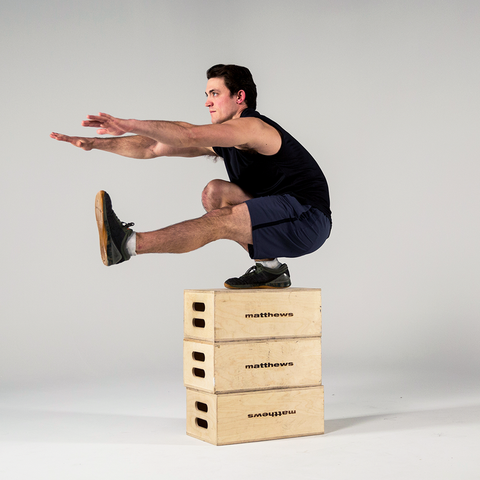 Connor Reid
When to Do the Pistol Squat
When you're working up to the full movement, Whitman recommends working on the mobility drills every day (that will help more than just your pistol squats, too). Hone your form with the progressions three to four days per week, especially on leg and full body workout days. Once you can nail the move, keep it in your repertoire for lower body routines, working with low reps and limited sets—something like 3 sets of 5 reps to start.
That said, Hero moves are a great way to show off your hard work and athleticism—so if you can pull off the pistol squat, don't be shy! Share your skills with us (@menshealthmag) and Whitman (@beauvault), and experiment with the platforms you use as a base. If you want to learn other Hero moves, check out our explainers on Superman Pushups and the L-Sit. The world can never have too many heroes.
Source: Read Full Article