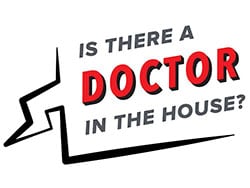 Emergencies happen anywhere, anytime, and sometimes medical professionals find themselves in situations where they are the only ones who can help. Is There a Doctor in the House? is a Medscape series telling these stories.
In December 2017, I was a second-year urology resident at Cleveland Clinic. I'd gone to New Delhi, India, to attend my best friend's wedding. My flight back was New Delhi – Paris – JFK via Air France. I didn't sleep on the first flight. So, on the second, I wanted to get some rest, because I had to go back to work the next day. I put on a movie and tried to snooze. As the saying goes in residency, you sleep when you can.
About 3 hours later, a flight attendant made an announcement in French, but I didn't really hear it. Then they announced in English that they needed a physician. I noticed some flight attendants walking frantically around the economy cabin asking, "Is there a doctor on the plane?" Turns out there were two ― the woman sitting next to me happened to be a pediatrician with Doctors Without Borders. I volunteered.
The flight attendant told me a woman was having abdominal pain. I thought it would be something straightforward. Usually, medical emergencies on planes involve chest pain or a panic attack or a vasovagal syncopal episode. Well, I was in for a ride that day.
The woman in pain was traveling from Nigeria. She told me about the abdominal pain. Then she lifted her blanket ― she was pregnant. She said she was 37 or 38 weeks in. I said, "Okay, if you're having this significant abdominal pain, then I need to examine you." So we decided to move her to the first-class cabin, which was empty (I never did ask why ― but it was good we had room to work).
Next step, I went back to my seat and asked the pediatrician if she could assist. My plan was to simply get the passenger through the flight, and as soon as we landed, she would go to the hospital.
There was room to lay down in first class. The pediatrician and I examined her, and she appeared fine. She was traveling with her 4-year-old daughter, and the flight attendants were taking care of her. Everything was okay.
The pilot came back and asked if we would need an emergency landing. I asked him how far it was to JFK ― 4 hours. He said the closest place to land would be the Azores Islands, which is Portuguese territory, 2 hours away.
The problem: Even if we made it to the Azores, the hospital there was a very basic facility with no obstetric care available. And by the time the ambulance picked her up and got her there, it would still be 2 or 3 hours total. I said, "No, let's just observe and continue our course." Inside my head, I was hoping and praying to God that was the right decision.
Within an hour, everything changed.
The woman's pain got worse, and she started having contractions. Then her water broke.
Things progressed quickly from there. The contractions progressively got worse and worse. The interval between them got smaller and smaller. The next time we examined her, we could see the baby's head beginning to crown.
At that point, we had to decide ― are we going to deliver? We were in the middle of the North Atlantic Ocean. There was nothing around us. 35,000 feet in the air, surrounded by blue.
The crew wanted us to sign a Good Samaritan agreement. So, we did that. And then I said, "Okay, let's just go for it."
We got the plane's medical kit. They had IV fluids, so I started an IV. I was able to monitor the woman's blood pressure. They had the usual drugs for doing ACLS [advanced cardiac life support], running the code, and things like that. But they didn't have a suturing kit or a laceration kit. They didn't have a scalpel. There was nothing else.
Honestly, there was a lot of panic going through my head. I started thinking about what could go wrong. I'd done an ob-gyn rotation in medical school and delivered seven babies before it was over. But a plane ― even the first-class cabin ― is in no way, shape, or form like a delivery room. I was really scared she would hemorrhage out or something.
So, internally, I was having a meltdown. Sij, you have to keep it together right now, because there's no one else that's going to do this. Just give it your best shot. And that's what I did.
I asked the pilot to go to an altitude that would minimize any turbulence, and we were very lucky that the notorious North Atlantic air wasn't choppy.
More luck: This was the passenger's second baby, and I was counting on second deliveries being easier. The pediatrician, the flight attendants, and I came together as a team. Two flight attendants had given birth before, so they held the patient's hand and guided her to push. I was "downstairs" waiting to catch.
She was in some pain. At this point, usually people get an epidural. I kept thinking about what drugs were safe in pregnancy, but I wasn't sure. I don't know if they even had morphine or anything on the plane. We gave her some Tylenol.
It didn't take long. After about 30 minutes, the baby's head emerged. I was able to navigate it out, avoiding any shoulder dystocia. There's a certain technique that you learn in medical school, which thankfully came back to me. I caught it ― it was a boy born right there in a first-class seat.
I gave him to the pediatrician, and she did the Apgar score, calculating his breathing and appearance. Then my job was to make sure there were no postpartum complications.
I ended up using a piece of string in the kit to tie around the umbilical cord, and then I cut it with scissors. After that, the woman was able to deliver the placenta. She did have some vaginal bleeding, but that resolved by just holding pressure.
The baby was fine. Mom was doing great. No complications. It was a miracle. I was the right person at the right place at the right time. I just think it was something from God.
The pilot made an announcement, "We're en route to JFK, and there's an additional passenger on this plane now."
When we landed, I had very little time because I had to catch my flight to Cleveland. I didn't even process what had happened.
A few days later, I got this package from Air France with a very expensive bottle of champagne along with a travel voucher. I heard from the mom by email ― she and baby were doing fine.
Eventually, the media relations people at Cleveland Clinic heard about the incident, and it became a story that went viral. That was very weird, because I'm usually someone who's private. All through my residency, people would introduce me with, "Remember that guy who delivered a baby on a plane? That's him."
I'm so thankful for everyone who was on that team. It was very beautiful because it was people from different cultures, backgrounds, and faiths who came together to achieve something so miraculous. The patient was Nigerian. The flight attendants were French. The pediatrician and I were American.
That just shows you the power of teamwork and how humanity can come together. Medicine, surgery ― everything, in fact ― is a team sport.
Sij Hemal, MD, graduated from urology residency at the Cleveland Clinic and is currently a robotic urologic oncology and minimally invasive surgery fellow at the University of Southern California Keck School of Medicine.
Are you a physician with a dramatic medical story outside the clinic? Medscape would love to consider your story for Is There a Doctor in the House? Please email your contact information and a short summary of your story to [email protected].
Read more in the series:
A Doctor Must Go to Extremes to Save a Choking Victim
A Doctor Intervenes in a Fiery Car Crash
A Freak Impalement by a Model Rocket has This Doctor Scrambling
A Remote Mountain Bike Crash Forces a Doctor to Take Knife in Hand
A Doctor Saves a Drowning Family in a Dangerous River
A Hiking Accident Becomes a Helicopter Disaster
A Beach Drowning and Car Crash Rescue – Back to Back
Half Marathon Heart Crisis – Times Two
A Post-Super Bowl Airplane Emergency
A Plane Crash Interrupts a Doctor's Vacation
For more news, follow Medscape on Facebook, Twitter, Instagram, and YouTube
Source: Read Full Article