Patients suffering from chronic urticaria can easily find bogus causes and treatments online, and providers need to refute the falsehoods with facts, a research letter suggests.
"Chronic urticaria can have a major psychological impact, leaving patients vulnerable to misinformation, and desperate for a cure for their uncontrolled itch. Patients may not find their prescribed treatments useful, or they may be concerned about potential adverse effects," Paula Finnegan, MB BCh, BAO, Michelle Murphy MB BCh, BAO, and Cathal O'Connor, MD, of the Department of Dermatology of South Infirmary Victoria University Hospital in Cork, Ireland, write in Clinical & Experimental Allergy.
"Their desperation, coupled with the exorbitant amount of accessible health misinformation available online, can lead to patients opting for alternative treatment options that have no evidence of benefit nor plausible mechanism of action," they add.
Chronic urticaria resolves within 5 years in half of patients, but 10% still have symptoms after 20 years, the authors write. Overall, 80% of patients respond to antihistamines, and two thirds of antihistamine-resistant chronic urticaria cases respond to omalizumab (Xolair). But one third of patients have sleep disorders, depression, anxiety, or impaired school or work performance.
Patients With Chronic Urticaria Susceptible to False Online Claims
According to the Centers for Disease Control and Prevention (CDC), "Misinformation is false information shared by people who do not intend to mislead others." By contrast, "disinformation is false information deliberately created and disseminated with malicious intent."
The authors searched PubMed for "urticaria" and "misinformation" or "disinformation" or "conspiracy theory." They searched the first 10 pages of Google for combinations of "urticaria," "hives," "misinformation," "disinformation," and "conspiracy theory." And they searched social media, including Twitter, Facebook, Instagram, and TikTok.
Their investigation found allergy proposed as a cause of chronic urticaria, as well as suggestions that no effective or safe medical treatments exist, with exclusion diets or natural nutritional or dietary supplements and alternative treatments usually for sale.
Causes, Treatments, Diets, and Supplements/Alternative Treatments
The authors found that false online information clustered around four areas:
Causes
Allergies were often said to cause chronic urticaria. In fact, acute urticaria immediately after exposure to a food allergen or aeroallergen indicates IgE-mediated allergy, but chronic urticaria lasting longer than 6 weeks does not indicate allergy, and allergy tests are not recommended.

Other "hidden" allergens were often mentioned, and costly allergy tests, mostly based on IgG levels, were often advertised. In fact, higher IgG levels usually indicate tolerance rather than allergy, and the tests are inappropriate, the authors write.

Some posts recommended all patients with chronic urticaria have skin prick tests or patch tests without explaining how the tests differ.
​​​​​​Treatments
Many social media accounts stated that no effective or safe medical chronic urticaria treatments exist. In fact, many do, including antihistamines and anti-IgE monoclonal antibody therapy, such as omalizumab.

Some sites called antihistamines "toxic" and falsely promoted prolonged antihistamine "detox." Omalizumab was claimed to carry falsely elevated risk for major adverse events.
Diets
According to most recent guidelines, the authors write, dietary exclusions should not be routinely advised, and evidence to support recommending any diet supplements is insufficient. Even so, they found:
Low-histamine diets were often recommended that entail avoiding mature cheeses, alcohol, pickled or canned foods, smoked meats, certain fish, fermented products, beans, pulses, vinegar, and foods with preservatives or artificial coloring.
Low-sulfite and low-tyramine diets were promoted, as were avoiding histamine-releasing foods such as citrus fruits, tomatoes, chocolate, and nuts; increasing histamine-reducing food intake; and avoiding food with additives or pesticides.
Supplements and Alternative Treatments
Supplements and alternative treatments abound, including dietary supplements, hypnotherapy, acupuncture, kinesiology, and homeopathy. A "medical medium" claimed urticaria is caused by "fear trapped beneath the skin" that's treatable with the "Emotional Freedom Technique."
Homeopathic and alternative remedies included witch hazel, baking soda, quercetin, evening primrose, vitamin B12, vitamin C, vitamin D, apple cider vinegar, fish oil, virgin coconut oil, turmeric, green tea, tea tree oil, ginger, basil, nettles, shea butter, and lavender oil.
Home remedies were common, including a Chinese balm of brown sugar, ginger, vinegar, and warm water.
Herbal Indian ayurvedic medicine remedies included haridra, neem, shirish, ashwagandha, guduchi leaves, aloe vera, black pepper powder, and desi ghee.
Counter Misinformation With Empathy and Facts
"Allergists and dermatologists should be aware of urticaria-related misinformation and actively aim to counteract it with patient education and evidence-based guidelines," the authors write.
The CDC recommends fact-checking and debunking to counter misinformation and disinformation.
"Fact-checking and debunking appear to be effective tools to counteract the effects of misinformation, particularly when the correct information sources are universities and health institutions. Debunking incorrect information with messages that reflect the worldview and affirm the values of the intended audience may be the most successful approach," the agency advises.
"Debunking misinformation is challenging. Misinformation is often simple and more cognitively attractive than fact, and refuting a falsehood often requires repeating it, which reinforces the falsehood in the believer," it adds.
To most effectively replace false medical information with facts, the CDC urges healthcare professionals to respond with empathy in their encounters with patients or in their social media posts. They should first warn listeners that the false statement they're about to discuss is misleading, use few arguments to refute the myth, and keep the factual statements simple.
The findings did not surprise Gerald Lee, MD, associate professor of pediatrics and medicine at Emory University School of Medicine in Atlanta, Georgia.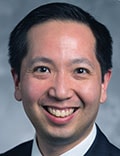 Dr Gerald Lee
"Urticaria, like other medical conditions, has a voluminous array of evidence-based and false information online," Lee, who was not involved in the study, told Medscape Medical News. "However, I was surprised by some of the content the authors found. It concerns me that it may lead to increased costs to patients for unvalidated tests and therapies while creating barriers to effective, evidence-based therapies.
"In allergy and immunology, patients often ask about misinformation they have obtained from friends, family, or their own online searches," he said.
Although combating falsehoods may be frustrating, he noted, clinicians need to acknowledge that their patients are seeking their expertise and advice about a condition that significantly impairs their quality of life.
"With empathy, we should let our patients feel they are being listened to, use strategies to correct the misinformation and disinformation, and redirect them toward effective, evidence-based therapies," Lee advised.
The study was not commercially funded. Open access funding provided was provided by IReL, a consortium of Irish research libraries. The authors and Lee report no relevant financial relationships.
Clin Exp Allergy. Published online October 22, 2022. Full text
For more news, follow Medscape on Facebook, Twitter, Instagram, YouTube, and LinkedIn
Source: Read Full Article