Response to buprenorphine among emergency department (ED) patients using fentanyl was similar to that in patients using other opioids, based on data from nearly 900 individuals.
California emergency departments include a facilitation program known as CA Bridge for the treatment of opioid use disorder. Guidelines for CA Bridge call for high-dose buprenorphine to treat patients in drug withdrawal, with doses starting at 8 mg to 16 mg, wrote Hannah Snyder, MD, of the University of California, San Francisco, and colleagues.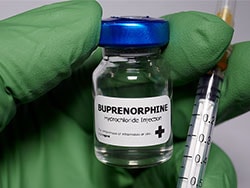 "Buprenorphine has been repeatedly shown to save lives and prevent overdoses," Snyder said in an interview. "We know that emergency department–initiated buprenorphine is an essential tool for increasing access. In the era of fentanyl, both patients and providers have expressed concerns that buprenorphine may not work as well as it did when patients were more likely to be using heroin or opioid pills," she said.
"This retrospective cohort study provides additional information about emergency department buprenorphine as fentanyl becomes increasingly prevalent."
In a research letter published in JAMA Network Open, the investigators reviewed data from the electronic health records of 896 patients who presented with opioid use disorder (OUD) at 16 CA Bridge emergency departments between January 1, 2020, and April 30, 2020. All patients with OUD were included regardless of chief concern, current treatment, treatment desires, or withdrawal. A total of 87 individuals reported fentanyl use; if no fentanyl use was reported, the patient was classified as not using fentanyl. The median age of the patients was 35 years, two thirds were male, approximately 46% were White and nonHispanic, and 30% had unstable housing.
The primary outcome was follow-up engagement at 7-14 days and 25-37 days.
A total of 492 patients received buprenorphine, including 44 fentanyl users, and 439 initiated high doses of 8 mg to 32 mg. At a 30-day follow-up, eight patients had precipitated withdrawal, including two cases in fentanyl users; none of these cases required hospital admission.
The follow-up engagement was similar for both groups, with adjusted odds ratios of 0.60 for administered buprenorphine at the initial ED encounter, 1.09 for 7-day follow-up, and 1.33 for 30-day follow-up.
The findings were limited by the retrospective design and use of clinical documentation, which likely resulted in underreporting of fentanyl use and follow-up, the researchers noted. However, the results supported the effectiveness of buprenorphine for ED patients in withdrawal with a history of fentanyl exposure, they concluded.
"We were pleased to see that precipitated withdrawal was relatively uncommon in this study, and that patients who did and did not use fentanyl followed up at similar rates," said Snyder. "This aligns with our clinical experience and prior research showing that emergency department buprenorphine starts continue to be an essential tool."
The message for clinicians: "If a patient presents to the emergency department in objective opioid withdrawal and desires buprenorphine, they should be offered treatment in that moment," Snyder said. "Treatment protocols used by hospitals in this study are available online. Emergency departments can offer compassionate and evidence-based treatment initiation 24 hours a day, 7 days a week, 365 days a year," she said.
More Data Needed on Dosing Strategies
"We need additional research to determine best practices for patients who use fentanyl and want to start buprenorphine, but are not yet in withdrawal," Snyder said. "Doses of buprenorphine like those in this study are only appropriate for patients who are in withdrawal with objective signs, so some patients may struggle to wait long enough after their last use to go into sufficient withdrawal."
Precipitated withdrawal does occur in some cases, said Snyder. "If it does, the emergency department is a very good place to manage it. We need additional research to determine best practices in management to make patients as comfortable as possible, including additional high-dose buprenorphine as well as additional adjunctive agents."
Findings Support Buprenorphine
"The classic approach to buprenorphine initiation, which emerged from psychiatry outpatient office visits, is to start with very small doses of buprenorphine (2 mg to 4 mg) and titrate up slowly," said Reuben J. Strayer, MD, in an interview.
"This dose range turns out to be the 'sour spot' most likely to cause the most important complication around buprenorphine initiation–precipitated withdrawal," said Strayer, the director of addiction medicine in the emergency medicine department at Maimonides Medical Center in New York City.
"One of the current focus areas of OUD treatment research is determining how to initiate buprenorphine without entailing a period of spontaneous withdrawal and without causing precipitated withdrawal," Strayer explained. "The two primary strategies are low-dose buprenorphine initiation (LDBI, < 2mg, sometimes called microdosing) and high-dose (HDBI, ≥ 16 mg) buprenorphine initiation. HDBI is attractive because the primary treatment of buprenorphine-precipitated withdrawal is more buprenorphine," he said.
"Additionally, using a high dose up front immediately transitions the patient to therapeutic blood levels, which protects the patient from withdrawal, cravings, and overdose from dangerous opioids (heroin, fentanyl, oxycodone)."
However, "The contamination and now replacement of heroin with fentanyl in the street drug supply has challenged buprenorphine initiation, because fentanyl, when used chronically, accumulates in the body and leaks into the bloodstream slowly over time, preventing the opioid washout that is required to eliminate the risk of precipitated withdrawal when buprenorphine is administered," said Strayer.
The current study demonstrates that patients who are initiated with a first dose of 8 mg to 16 mg buprenorphine are unlikely to experience precipitated withdrawal and are successfully transitioned to buprenorphine maintenance and clinic follow-up, Snyder said, but he was surprised by the low rate of precipitated withdrawal in the current study, "which is discordant with what is being anecdotally reported across the country."
However, the take-home message for clinicians is the support for the initiation of buprenorphine in emergency department settings at a starting dose of 8 mg to 16 mg, regardless of reported fentanyl use, he said. "Given the huge impact buprenorphine therapy has on OUD-related mortality, clinicians should make every effort to initiate buprenorphine for OUD patients at every opportunity, and precipitated withdrawal is very unlikely in appropriately selected patients," he added.
"Many clinicians remain reluctant to initiate buprenorphine in ED settings for unfamiliarity with the drug, fear of precipitated withdrawal, or concerns around the certainty of outpatient follow-up," Snyder said. "Education, encouragement, systems programming, such as including decision support within the electronic health record, and role-modeling from local champions will promote wider adoption of this lifesaving practice."
Looking ahead, "More research, including prospective research, is needed to refine best practices around buprenorphine administration," said Snyder. Questions to address include which patients are most at risk for precipitated withdrawal and whether there are alternatives to standard initiation dosing that are sufficiently unlikely to cause precipitated withdrawal, he said. "Possibly effective alternatives include buprenorphine initiation by administration of long-acting injectable depot buprenorphine, which accumulates slowly, potentially avoiding precipitated withdrawal, as well as a slow intravenous buprenorphine infusion such as 9 mg given over 12 hours."
The study received no outside funding. Snyder disclosed grants from the Substance Abuse and Mental Health Services Administration (SAMHSA) and the California Department of Health Care Services during the study. Strayer reports no relevant financial relationships.
JAMA Network Open. Published online March 3, 2023. Full text.
Heidi Splete is a freelance medical journalist with 20 years of experience.
For more news, follow Medscape on Facebook, Twitter, Instagram, and YouTube.
Source: Read Full Article